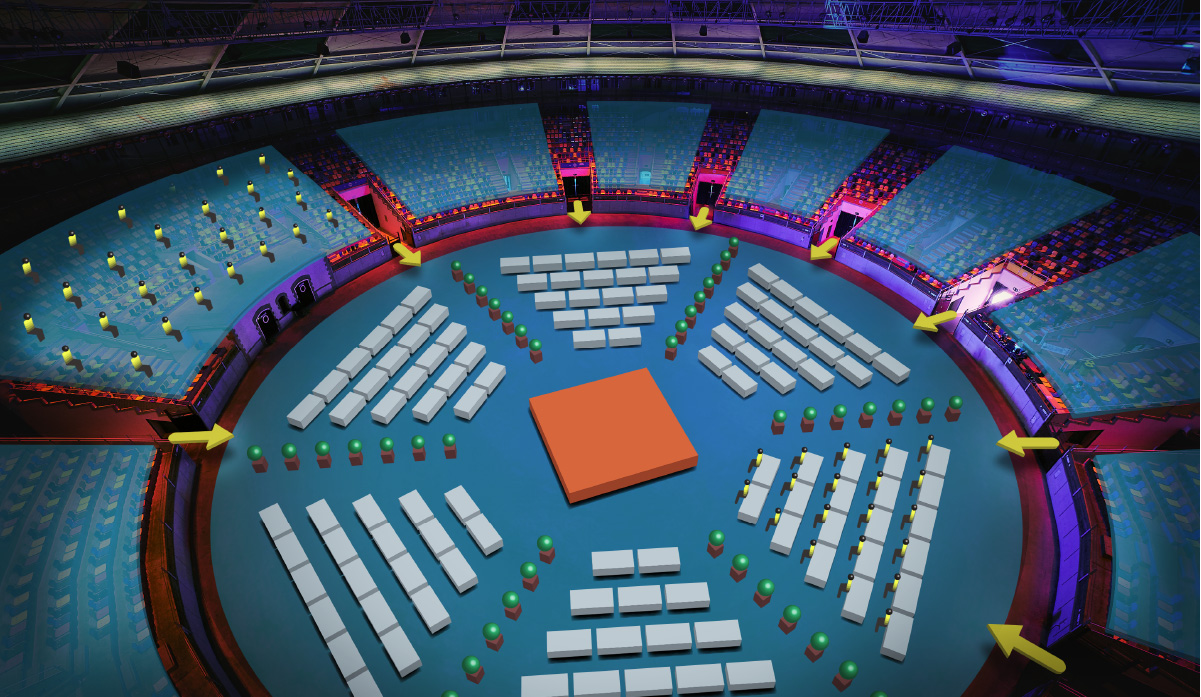 360º format for innovative and secure events
There is a lot of talk these days about how the MICE events sectors will be strengthened but at the same time harmed. Oriented to organize fairs, meetings and bring to our country the much sought-after incentive tourism. After the new guidelines of the Central Government, where the 4 phases of the regular deconfinement were specified. We enter into a new vision of how the progress will be to be able to organize, as soon as possible, the long-awaited congresses, meetings, product presentations and corporate events in general.
At San Miguel Tarraco Arena we are going to take a step forward anticipating the needs you may have in the immediate future. We want to give you peace of mind and comfort in your next projects. We are studying different solutions and formats that will give us a lot of joy. Adapting our enclosure to the strictest measures of distance between people and general hygiene dictated by the WHO and the Ministry of Health.
On this occasion we bring you a proposal for a 360º Congress format with all the attendees seated and distributed between the 2,500m2 of central stalls and the almost 5,000 seats we have in the stands. As you can see in the 3D rendering of this publication, we are on the way to making this solution a reality, which covers all the existential needs. Mainly it offers us a staggered and comfortable access for all attendees. We have on the outside more than 25 access doors and 10 entrances and exits to the central stalls. In addition, you will find in each access the well-known disinfection tunnels equipped with nebulizers and support staff distributing PPE and disinfection material.
The proposal is distributed in a central stage surrounded by 6 blocks or corralitos perfectly delimited and located in the stalls. Each corral will have a maximum capacity of between 40 and 60 people, ensuring a sufficient distance between all the people who are there. We can also divide the bleachers into multiple blocks or corralitos with limited capacity for 50 to 70 people each.
This format ensures a maximum attendance to the event of between 500 and 700 people. In addition, people who want to be connected in streaming from their homes or work stations will be able to do so thanks to the new broadband and ultra-fast connectivity system that we offer at San Miguel Tarraco Arena.
At the same time, our technology developers are developing a virtual assistant that will allow each attendee to have their seat assigned once they confirm their presence at the event. In this way, a QR code will be sent to each person notifying them in a very visual way which will be their assigned area and seat. With each QR will be pautated a time of entry to the site, the door number where you must access and a colored route for the attendee to reach comfortably and safely to your seat or table where you will attend the event.
This is a format that is sure torevolutionize the events sector and will mark a before and after for agencies that want to show their clients different and innovative solutions.
Do you want to know more about this format? Contact us at info@tarracoarena.com and we will develop this innovative project together.